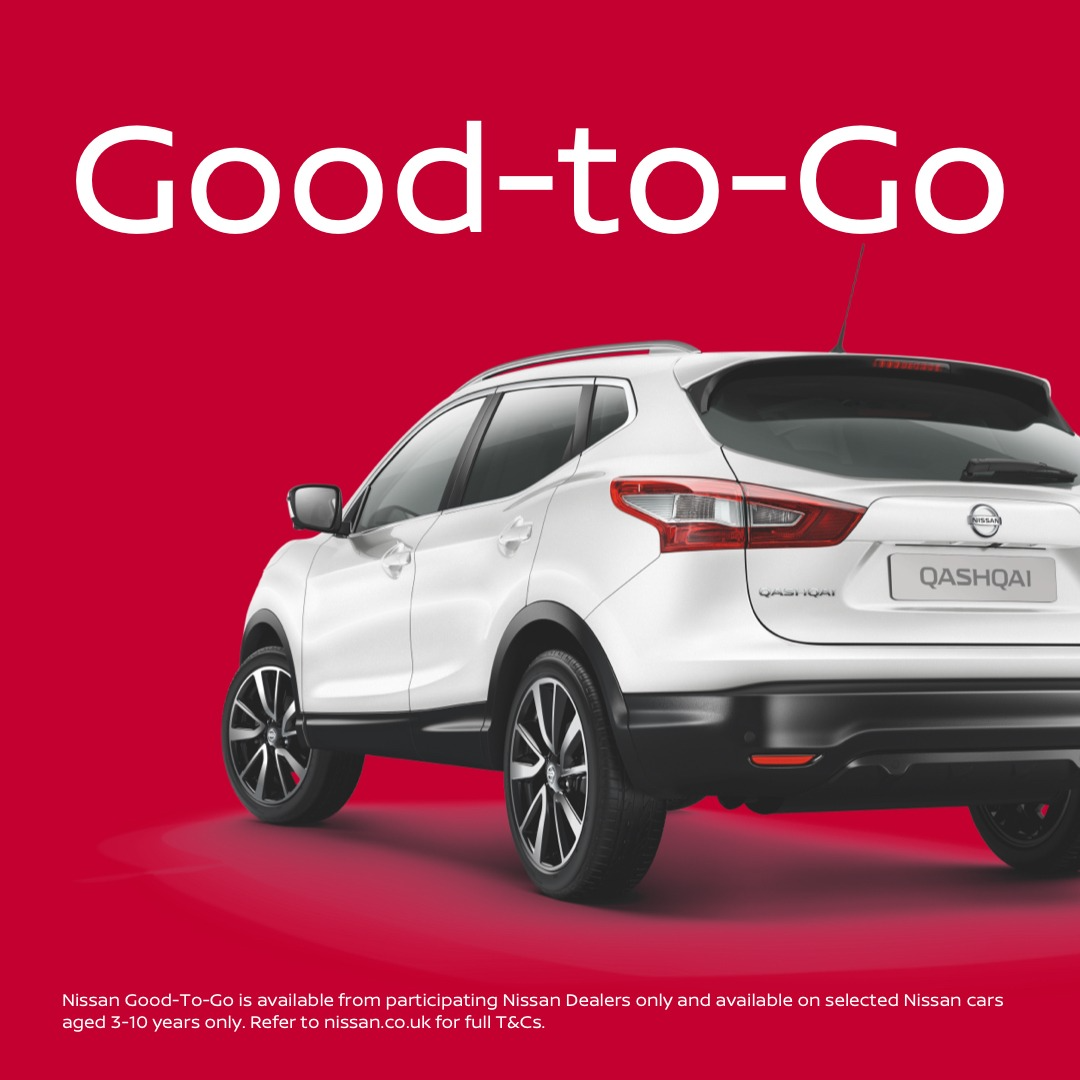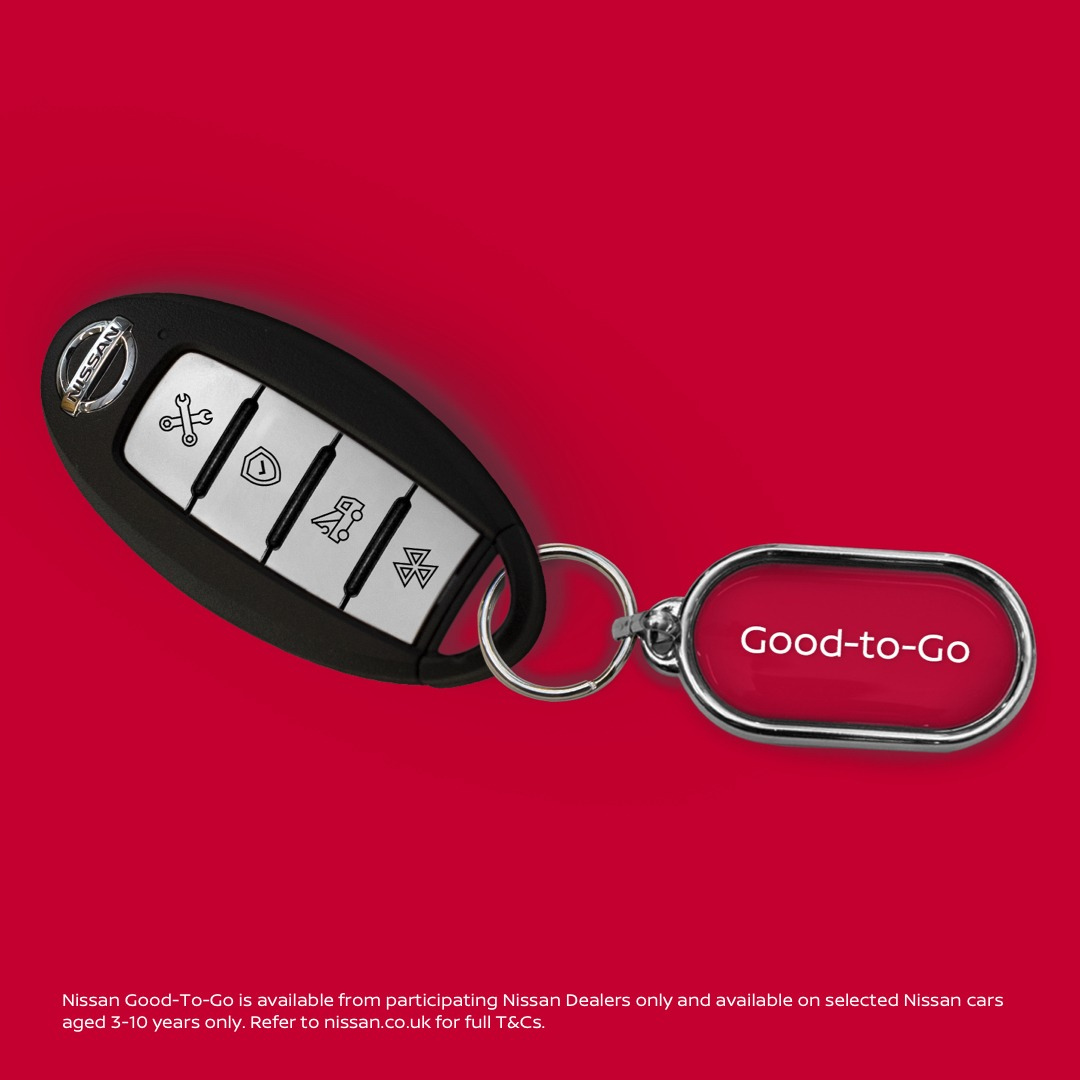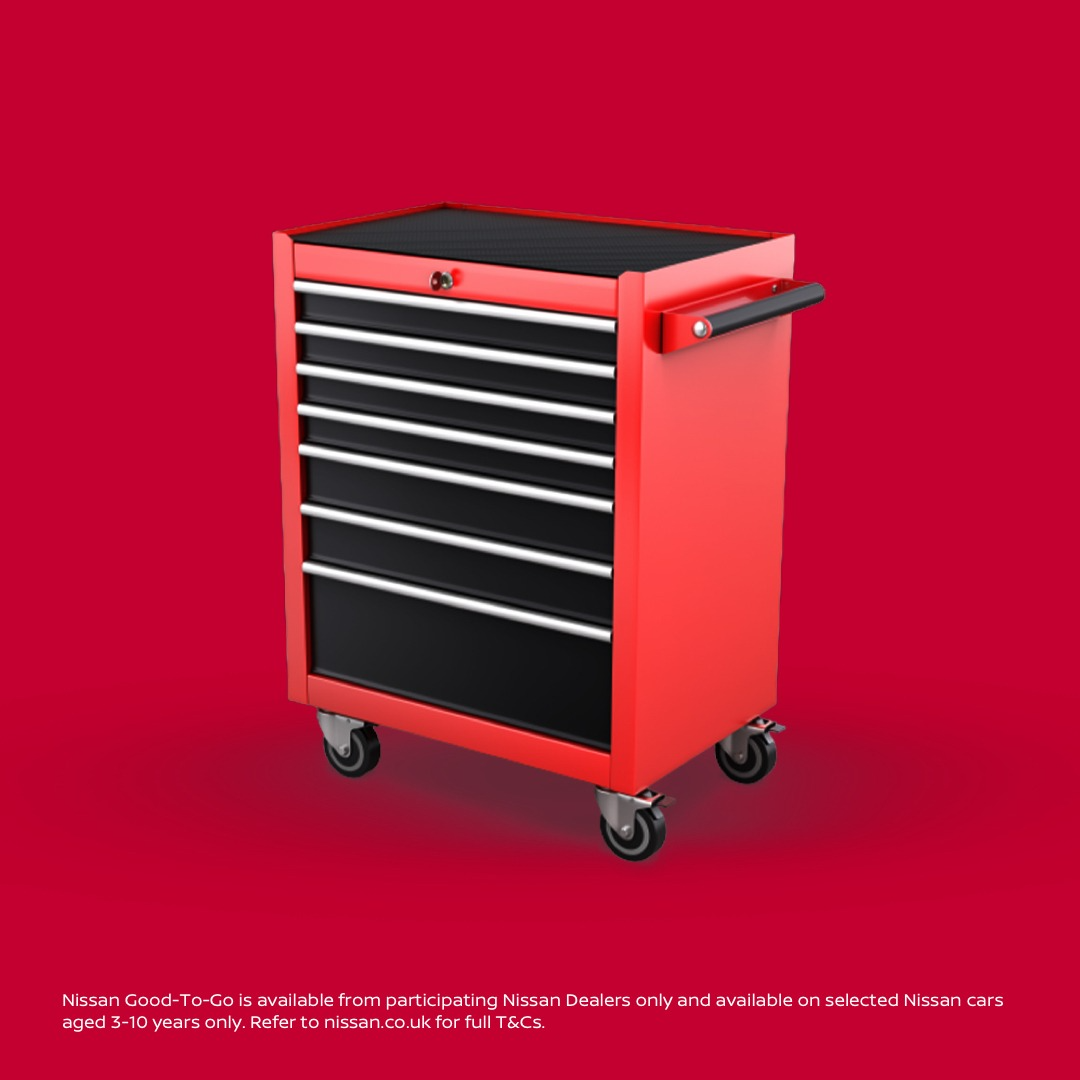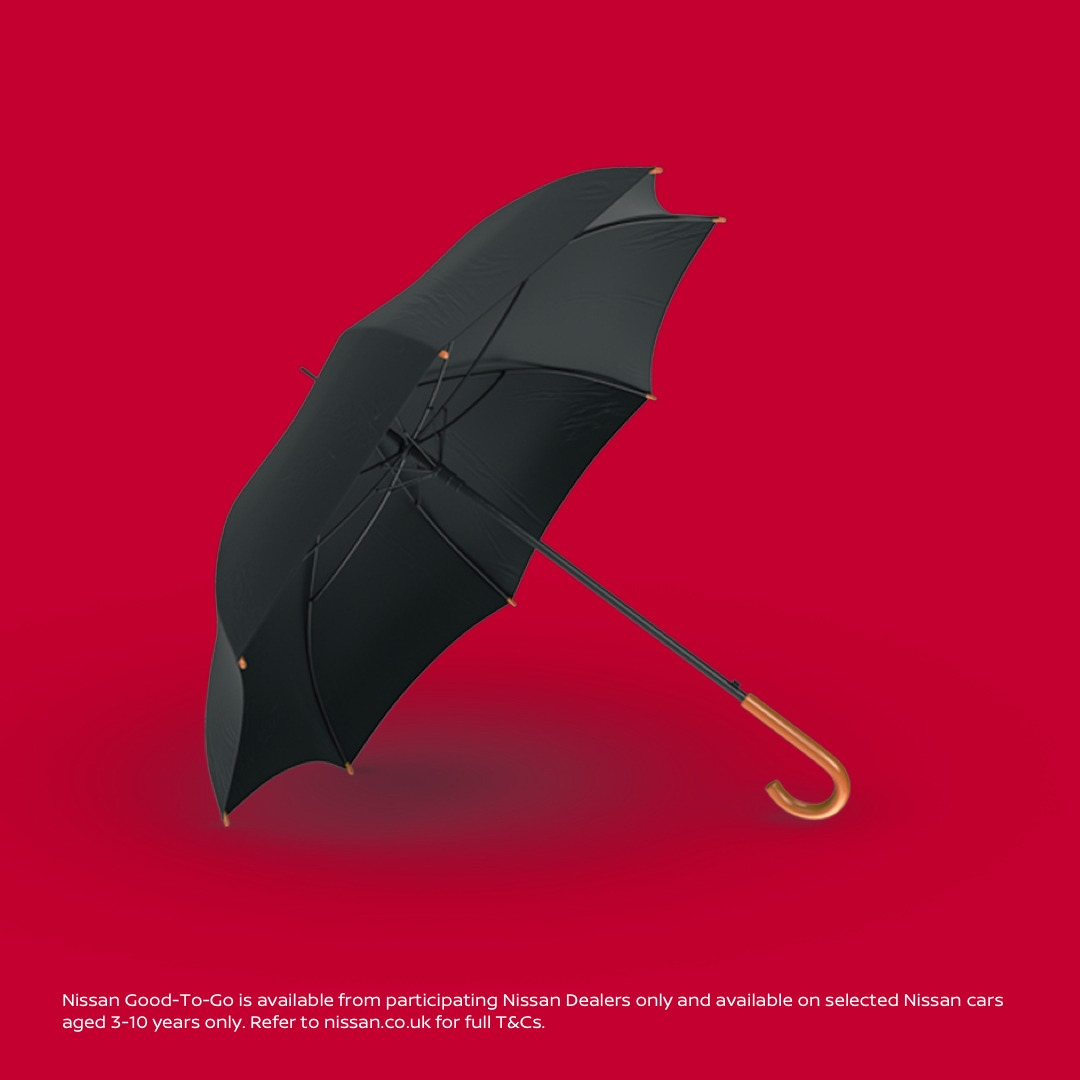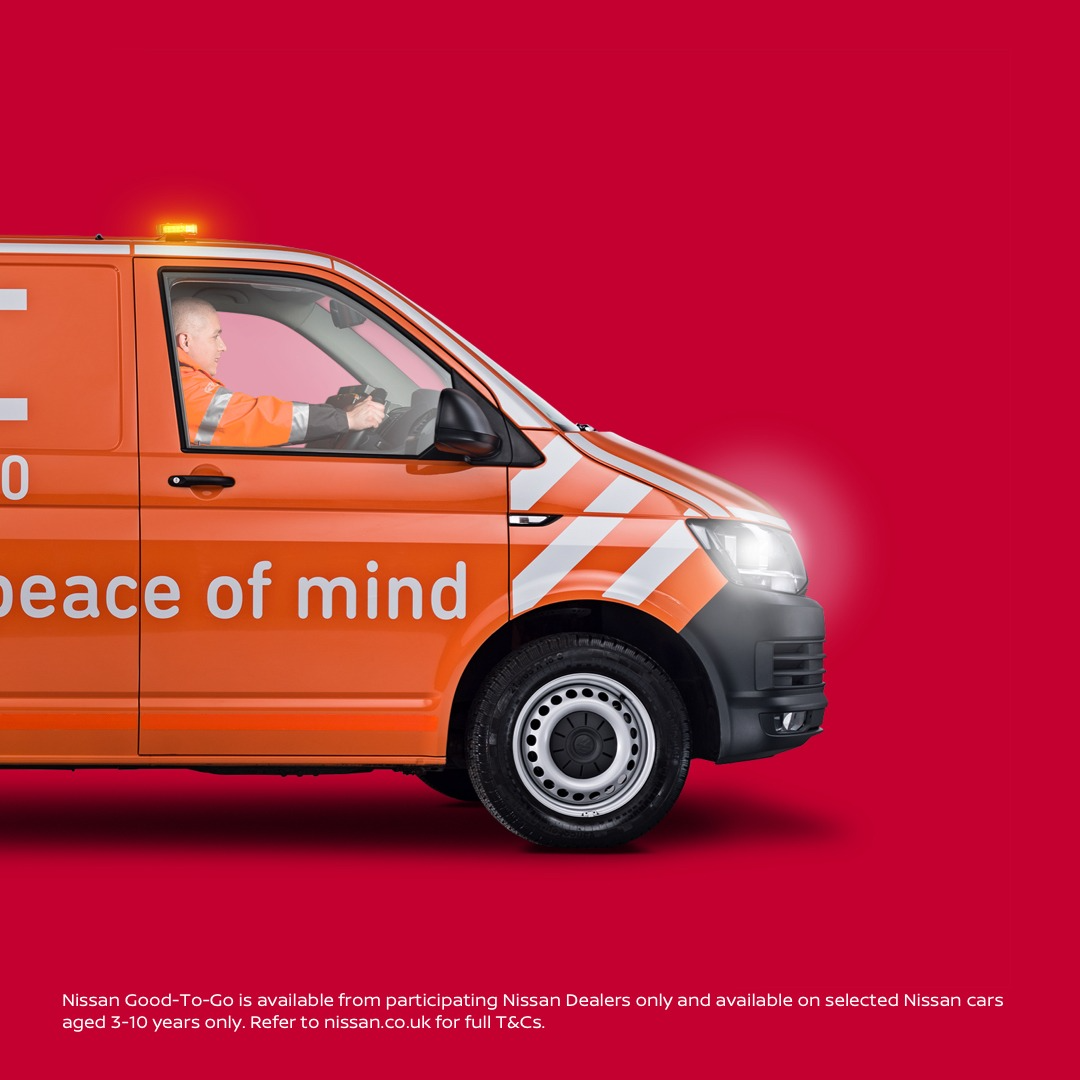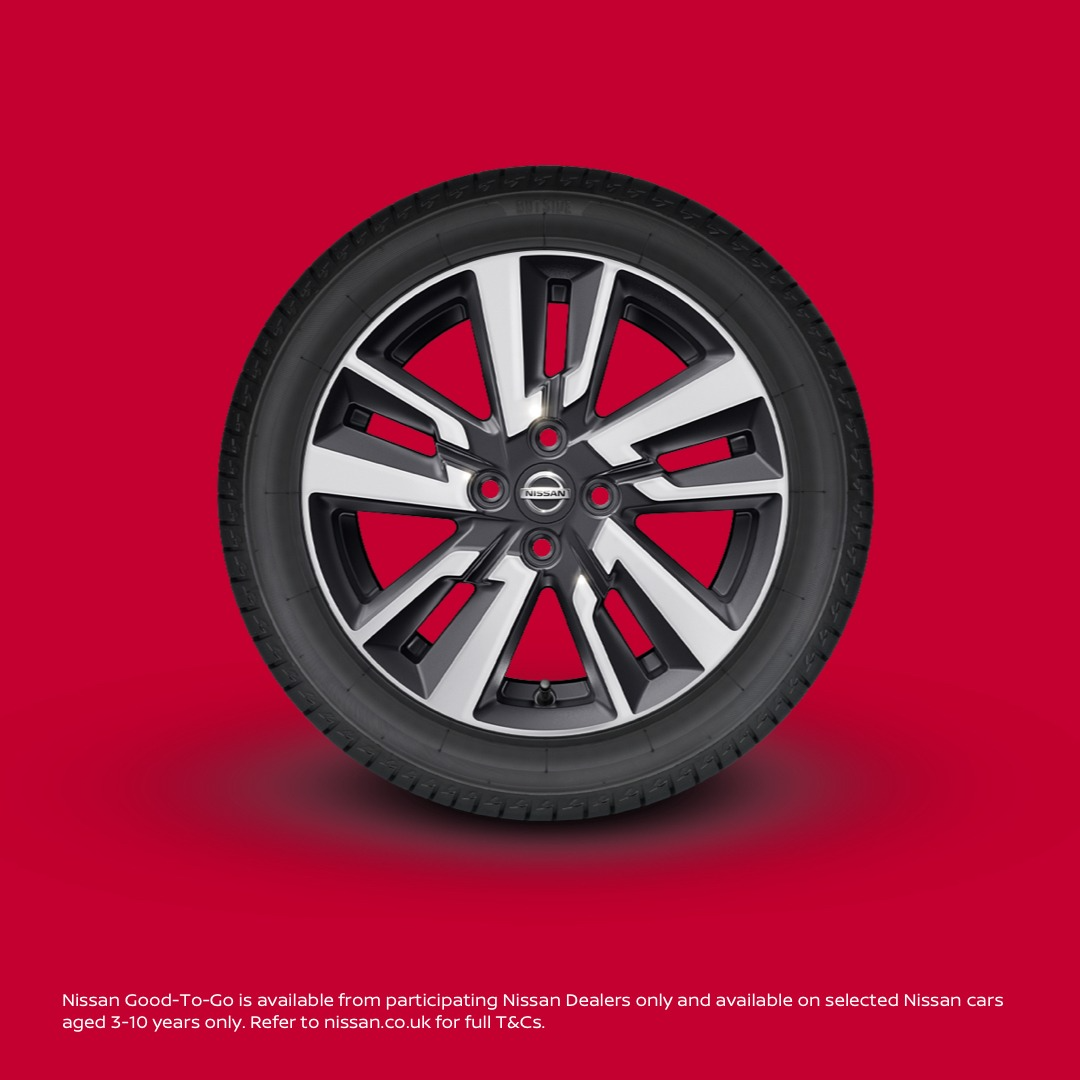 Nissan Good-to-Go Ownership Package

Introducing Good-to-Go, the unique ownership package for Nissan customers with vehicles aged three to ten years.
Nissan Good-to-Go is Nissan's new comprehensive package for all Nissan Owners with qualifying vehicles between 3-10 years old, with Servicing, MOT, RAC, and 12months Warranty all conveniently covered in 1 monthly payment.
So what are the benefits to you?
• Servicing – Complete Fixed Price Service is included, either the Minor or the Major. Whichever is due in the Service Book of the vehicle.
• Nissan Roadside Assistance - provided by the RAC.
• MOT – The cost of the next MOT test.
• Extended Warranty – Same level of cover as our Nissan New Vehicle Extended Warranty and the Nissan Intelligent Choice Warranty.
• Reassurance Servicing, MOT, RAC, and Warranty are all included in 1 convenient monthly payment. With a significant saving: (The customer has the option to purchase the package upfront if they choose).
Note - there is a £7.50 monthly (£90 upfront) supplement for all X-TRAIL models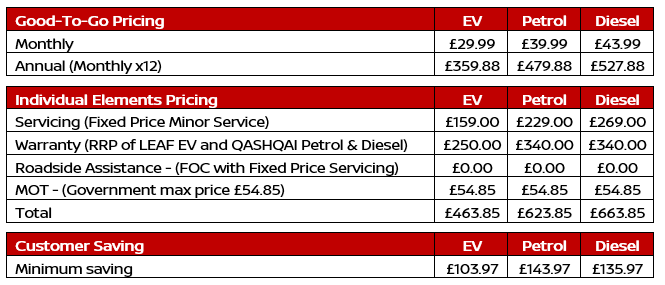 For more information on this exciting new product, please contact the service team here at JSHolmes on 01945410243 or email sales@jsholmes.com who will be pleased to assist you.

Customer Leaflet T&Cs: N
Nissan Good-to-Go package is available on all Nissan MICRA, NOTE, PULSAR, JUKE, QASHQAI, X-TRAIL, and LEAF models that are less than 10 years from
1st registration and with less than 100,000 miles on the odometer at the commencement date of the Good-To-Go package (370Z, GT-R, Pathfinder, Light Commercial Vehicles, and Nissan models that are not European specification are specifically excluded). Note for all X-TRAIL models a monthly supplement of £7.50 or an annual charge of £90 is applied to the package. Nissan Good-to-Go package comprises: 1 annual service (which cannot be taken until after
6 months from the commencement date of the package) including Nissan Roadside Assistance. For full terms please refer to https://www.nissan.co.uk/ ownership/nissan-services/nissan-car-assistance/roadside-assistance.html. 12 months extended warranty from the package commencement date.
An MOT Test was carried out at a participating Nissan Dealer (note for Northern Ireland this is replaced with a pre-MOT check at a participating Nissan Dealer). To qualify for the Nissan Good-to Go package the vehicle must: a) have an existing Nissan manufacturer's warranty which expires within the next 30 days; or b) have an existing warranty administered by Nissan Extended Warranty Administration which expires within the next 30 days; or c) have completed a Nissan vehicle Good-to- Go comprehensive check including any remedial work prior to commencement date; or d) have completed a Fixed Price Service
at a Nissan Dealer. Nissan Good-to-Go package is administered by Car Care Plan T/A Nissan Warranty /Service Plan Administration. Nissan Good-to-Go package is available at participating United Kingdom Nissan dealers only. All prices are correct at time of publication and are subject to changes at any time without prior notification. Nissan Motor GB reserves the right to update, change, add, amend or withdraw the offer without prior notice. For more details of terms and conditions visit https://www.nissan.co.uk/ownership/nissan-services/good-to-go.html
Latest News