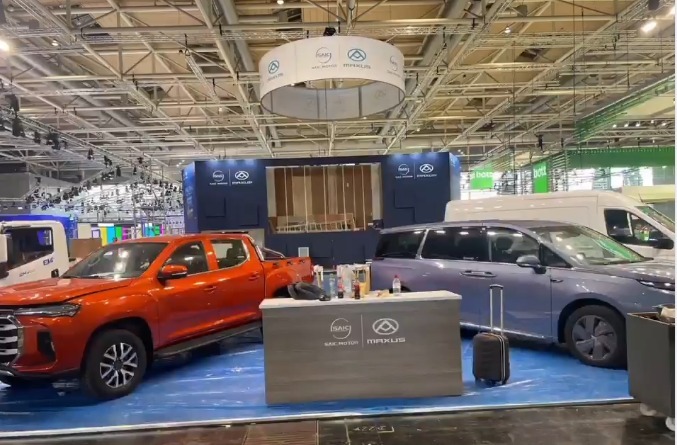 MAXUS launches two new EVs as UK market share shows year on year growth
MAXUS once again electrified the annual CV show in Birmingham, launching two new electric vehicles and showcasing its biggest-ever line-up of commercial EVs, copper-fastening its position as one of the most innovative and progressive brands in the e-LCV sector.
"The MAXUS brand is synonymous with market-leading commercial electric vehicles, which is a very strong position for a brand that is relatively new but is clearly having a significant impact on the EV marketplace," said Mark Barrett, General Manager of Harris MAXUS.
Between March 2021 and April 2022 there were more than 17,000 e-LCVs registered in the UK with MAXUS capturing an 11% market share. "EVs accounted for more than 36% of MAXUS registrations over the past 12 months and the growth and interest in EV vans, particularly from the grocery, delivery and pharmaceutical sectors is phenomenal," said Mark Barrett.
"In 2016 we launched our first all-electric commercial vehicle, the EV80, at CV Show. The pace at which technology is changing and at which SAIC is innovating is evidenced by the fact that in just six years, the EV80 has been superseded by two new platform EVs, the eDELIVER 3 and eDELIVER 9. And, today, we are launching two more hotly anticipated EVs for the UK market."
With MAXUS showcasing no fewer than 12 electric vehicles at CV Show 2022, the impressive line-up included the two newest entrants to the UK market, the MAXUS MIFA 9 (MPV) and T90EV pick-up truck, which were unveiled on press day amid much fanfare.
Click here for images (Dropbox.com)
Maximum, Intelligent, Friendly and Artistic (MIFA)
Following its debut at Guangzhou Auto Show last November, MAXUS has introduced MIFA 9 to the UK market, the world's first full-size, pure electric MPV. With the MIFA acronym reflecting the vehicle's key attributes Maximum, Intelligent, Friendly and Artistic, manufacturer SAIC has confirmed that the versatile platform could also be used for SUVs and pick-ups.
Bringing the MAXUS brand to a whole new audience, MAXUS MIFA 9 offers a range of up to 323 miles / 520km (NEDC) on a single charge. With a body size of 5,270 x 2,000 x 1,840mm, the seven- seater display model is a high spec vehicle boasting the industry's first intelligent driving housekeeper, which automatically recognises driving style through data and scene driving. MIFA 9 will be available to order from August 2022, with delivery in Q1 2023.
MIFA 9 – at a glance (CV Show display model)
Battery pack: 93kWh ternary lithium from CATL
180kW motor with a maximum torque of 350Nm
Auto rear lift gate, bilateral electric sliding door, electric power assisted hydraulic braking,
electric power steering, electronic parking brake
Front and rear radar, heating device charging, intelligent headlight control
Check out the new MIFA video below:
Register your interest in the Mifa 9 here.
MAXUS T90EV
A much-anticipated arrival, the new MAXUS electric pick-up is the EV version of the Chinese MAXUS T90 and will be available to order from August 2022, with delivery in Q1 2023. Perfect for both on and off-road driving, the MAXUS T90EV is equipped with a high-level spec and a contemporary and stylish interior. With a range of 198 miles / 320 km (WLTP city) and a payload
of 740Kg, TBC the visually sporty exterior is complemented by a modern interior with a 10.25-inch digital touch screen instrument cluster providing a minimalist look. The T90EV is roomy thanks to a neat dashboard design and floor console, making more room for both occupants and storage.
T90EV at a glance (CV Show display model)
Battery pack capacity: 88.55kWh
198 miles / 320 km Range (WLTP city)
150 kW motor
Pickup of 3,300kg RWD
Body size: 5,365 x 1,900 x 1,809mm
Cargo Box: 1,485 x 1,510 x 530mm
Reversing camera and rain-sensing windscreen wipers
Halogen headlight with automatic induction and LED daytime running light
17"alloy wheels
Stainless steel sports bar and outside rope hook
Register your interest in the T90EV here.
Supporting 100s of jobs as MAXUS expands dealer network
In other progressive news, MAXUS has again increased its network of UK dealerships in the past 12 months and now has 46 dealers located around the UK in addition to 9 service only centres and 14 open points for both sales and service only.
"While we are continuing to grow our dealer network it's less about the numbers and more about the pedigree of the respected names with which we partner," said Mark Barrett. "Each dealership owns and operates its own business, but we think and behave as a collective when it comes to the MAXUS brand. That has been critical to the success and growth of the brand and has been made possible by having a great product that is supported by marketing, training, outstanding levels of customer service and by consistently going the extra mile for customers.
"Although manufactured in China, we're proud to be able to say that the MAXUS network supports hundreds of jobs across the UK, while making a multi-million contribution to the Exchequer," said Mark Barrett. "Our commitment to the UK market is unwavering and we will continue to innovate, lead and bring new products to market, while providing information and education around making the switch to EV."
£30million support
MAXUS is manufactured by SAIC Motor Corporation Limited and is actively helping organisations, businesses and individuals make that all-important switch to greener commercial motoring.
MAXUS recently launched its biggest EV support programme ever, committing £30 million to the UK EV market to help van drivers, small businesses as well as larger fleets move away from Internal Combustion Engines (ICE). Available at any MAXUS dealership in the UK, this support programme is open to all customers who want to purchase, contract hire or lease a MAXUS eDELIVER 9. A £15,000 subsidy will be set aside for each vehicle purchased as part of the campaign, which is limited to 2,000 eDELIVER 9 vehicles and as Mark Barrett noted 'when they're gone, they're gone!".
This MAXUS support programme is available on all variants of the e DELIVER 9, including panel van, dropside, tipper or Luton box with a tail lift of 3500kg or 4050kg GVW. There will also be the option to order an e DELIVER 9 fridge van, milk float or welfare van.
To find your local MAXUS dealer or for more information visit www.saicmaxus.co.uk or www.saicmaxus.ie for customers in Ireland.
ABOUT HARRIS GROUP
Harris Group is one of Ireland's leading distributors of commercial vehicles. Founded by Pino Harris and now operating under the stewardship of CEO Denise Harris, for more than 50 years the company has distinguished itself through a spirit of innovation, a strong moral conviction and a commitment to excellence in customer service. Today, with strong executive leadership, exciting brand partnerships and significant investment in parts and service infrastructure, Harris Group is building on the legacy of Pino Harris while forging a new path towards a future of clean, sustainable and cost-effective commercial and mass transportation solutions.
RECENT AWARDS
Business Van Awards 2022: Best Manufacturer Van Service: MAXUS
Business Van Awards 2022: Best Large E-Van: MAXUS DELIVER 9
Company Car & Van Awards 2022: Small Electric Van of the year: MAXUS eDELIVER 3
Motor Transport Awards 2021: Clean Fleet Van of the year: MAXUS eDELIVER 9
GreenFleet Awards 2021: Electric Vehicle Manufacturer of the Year: MAXUS
For media information please contact the team at Sherry Communications:
Rachel.sherry@grayling.com +00353 876622111
Niamh.campbell@grayling.com +00353 863618376
*UK LCV registrations March 2021 – April 2022 (SMMT)
With an EV-only display of some 12 vehicles, MAXUS showcased the following to guests at this year's CV Show:
Description of Exhibit
Length
Width
Height
Weight
eDELIVER 9 panel LWB crew van
(72kw)
5940
2062
2525
3500kg
eDELIVER 9 Tesco vehicle
(65kw)
6500
2500
2820
4050kg
eDELIVER 9 low loader luton
(65kw)
7000
2460
2980
3500kg
eDELIVER 9 14-seater Minibus
(88.5kw)
5940
2062
2765
4050kg
eDELIVER 9 specialist welfare vehicle
(88.5kw)
5940
2062
2525
4050kg
Pricing: From £65,000 (ex-Vat & before grant is applied)
eDELIVER 3 Hi roof model
(52.5kw)
4555
1780
2245
2500kg
eDELIVER 3 sports model
(52.5kw)
4605
1800
1915
2500kg
eDELIVER 3 Tipper
(52.5kw)
5090
1780
1885
2600kg
eDELIVER 3 Box Crew Cab
(52.5kw)
5156
1645
1950
2600kg
eDELIVER 3 RAC van
(52.5kw)
4555
1780
1895
2500kg
Pricing: From £33,000 (ex-Vat & before grant is applied)
Newly launched
MIFA 9
(93kw)
5270
2000
1840
>3095k
g
ET90
(65kw)
5365
1900
1809
3300kg
Latest News