Explore Model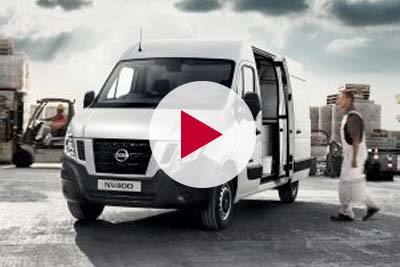 Nissan NV400 Overview
With a choice of front or rear-wheel drive and a powerful 2.3 dCi diesel engine, the Nissan NV400 brings immense versatility to any fleet. The FWD model's available in three lengths and three roof heights, while the RWD model's available in two wheelbases - 6.2m and 6.8m - to offer up to 17m³ of load volume and a payload capacity up to 2,134kg. There's also a Crew Van and Crew Bus available with space for 7 and 9 passengers respectively. You know, just in case you transport people more so than equipment. Whichever model matches your needs, you'll find the NV400 a complete package.
Design
How do you dress up a van? You don't bother. You get the basics right (the silhouette, stance and cabin) and the van takes care of itself. The Nissan NV400 van is purpose-made to be a tool, and its intelligent design is a showcase for this.
Drive
The NV400's 2.3 litre dCi turbodiesel engine delivers strong performance and Euro6 compliance. Unwavering stability at high speed and an agile chassis at low speed mean the NV400 is perfect for wherever work takes you.
Practicality
The Nissan NV400 Panel Van transports goods efficiently and is purpose made to accommodate appliance integration. The NV400 Crew Van has space for 7 passengers, and if you need to ferry more the NV400 Crew Bus has space for 9.
Living with it
With air conditioning, cruise control and a speed limiter available, the Nissan NV400 has the creature comforts you want. Safety comes first with a steel bulkhead, and you'll find the panel van has built-in, reinforced fixtures for securing your load.