Explore Model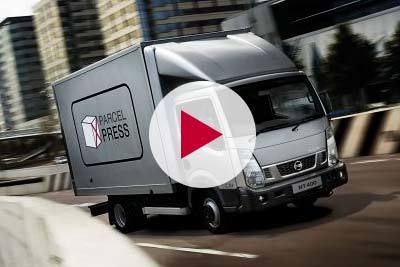 Nissan NT400 Overview
Constructed for maximum versatility, the Nissan NT400 is a unique proposition. It's a truck built as a chassis cab, with a high payload, low running costs and a choice of three wheelbases on a wide range of bodies. Conversions include a Dropside or Scattolini Tipper, and unlike a van-based variant of these vehicles, the NT400 has the advantage of a very, very short wheelbase. This makes the manoeuvrability akin to a car and with its Euro6 compliant 3.0-litre turbodiesel engine, it's got the torque to haul too. 24,000-mile service intervals and Nissan's market-leading 5-Year/ 100,000-mile warranty seal the deal. Simply put, this is the perfect truck for your business.
Design
The NT400's compactness and flat front end have a purpose - they exist to make this truck as manoeuvrable and city friendly as possible. And it works. Choose a single tilt cab or double fixed cab to suit your needs.
Drive
Powered by a 3.0-litre turbodiesel engine with 130PS and 300Nm of torque or 150PS and 350Nm of torque on vehicles weighing 3.5 or 4.5-tonnes, the NT400 works hard and delivers assured performance. It's stable at any speed.
Practicality
All models from the 35.13 SWB onwards have a 3,500kg tow capacity and you have a choice of four distinct models (two with a short wheelbase, one with a medium wheelbase and one with a long wheelbase). Configure away to build your perfect truck.
Living with it
Keyless entry comes as standard so you don't need your keys - perfect for when you've got your hands full! Electric windows are a standard feature and the infotainment system has USB, Aux-in and Bluetooth connectivity to keep you connected.