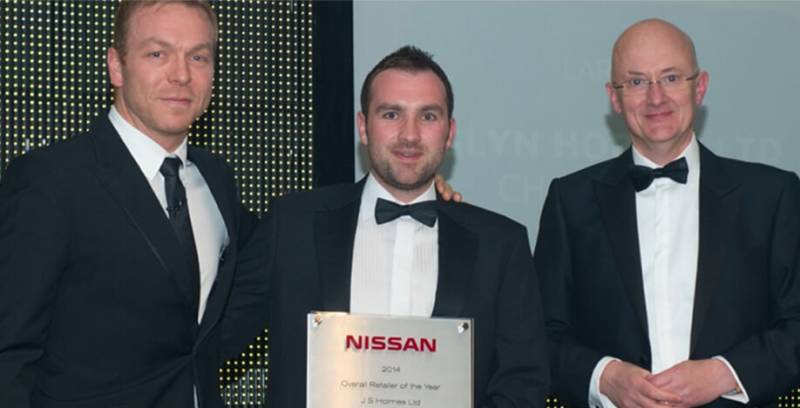 JS Holmes Ltd in High Road, Wisbech received the prestigious prize at the 'United in Success' event hosted by the manufacturer at the Grosvenor Hotel in London's Mayfair. The award recognises the dealership's performance in vehicle sales, aftersales and customer quality categories compared to other similar-sized dealers. JS Holmes also won the Nissan Customer Quality Retailer of the Year award based on its sales and aftersales figures in its sector.
Sales Director, Alex Holmes, was given the commemorative plaques from Nissan brand ambassador Sir Chris Hoy at the end of a conference to celebrate the company's success in the last year. Alex said: "To win these awards is such a huge honour. I would like to pay tribute to the hard work of all my staff throughout the year in achieving this accolade. "The Overall Retailer of the Year award recognises our performance across all categories - it means we are hugely successful in each area of our business. "Customers know if they come to JS Holmes they are guaranteed excellent service throughout the buying process."
Nissan Motor (GB) Managing Director James Wright said: "2014 was a record-breaking year for Nissan in the UK and our network must take much of the credit for our success. "It was a busy year and we set ourselves some tough targets but our dealers rose to the challenge magnificently." He added: "It's great to be able to recognise the best-performing dealerships in the network with an award and to be able to thank them personally for the contribution they have made."