Nissan X Trail
Take your family adventures to the next level with the new Nissan X-TRAIL. This rugged and stylish family-size SUV has the option of seven seats, comes packed with technology and premium features, and boasts one of the most stylish and highest quality interiors in the class. The Nissan X-TRAIL is also available with Nissan's All Mode 4x4-i system, which lets you switch between 2WD and 4WD to save fuel and lock the differential for more challenging conditions. Other clever technologies include Active Brake Limited Slip, which redirects power to the wheels with the best traction, and Active Trace Control, which automatically brakes the wheels when cornering to improve grip. And perhaps best of all, the X-TRAIL defies its size to offer incredible fuel economy. Choose the 1.6 dCi engine, and you could return up to 57.6 mpg with CO2 emissions as low as 129 g/km.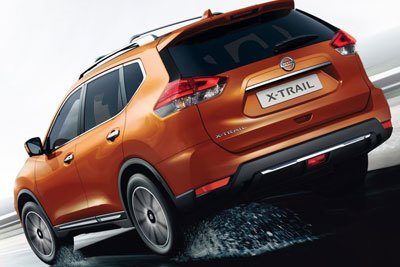 Upmarket SUV styling
The Nissan X-TRAIL is one of the most striking SUVs on sale, with a bold and powerful stance, an aggressive front end and a sharp rear. It looks incredible in the city and the countryside, or indeed wherever it goes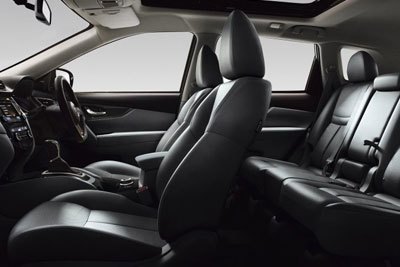 Luxurious Interior
The X-TRAIL ensures you have ever comfort within its premium interior. The seats are deeply bolstered, the dashboard materials are first-rate, and as standard the X-TRAIL boasts a 7-inch touch-screen infotainment system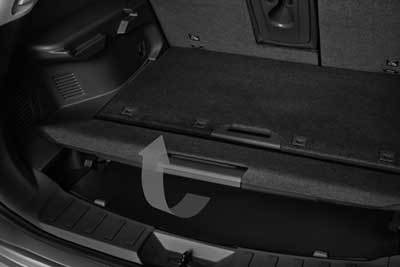 Massive Boot
The five-seat Nissan X-TRAIL has an enormous 550-litre boot which expands to 1,982-litres by folding down the rear seats. And unlike in some rivals, the X-TRAIL's 4WD system does not reduce boot capacity.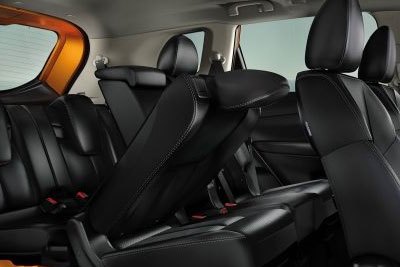 Seven Seats
The Nissan X-TRAIL's third row of seats (optional) are arranged cinema-style, so they are raised to offer a good view outside. They also don't eat into boot space too much, with 445-litres of space available with the rear bench in place.